Daphne Bagshawe, the chair of Wealden Conservatives and former Conservative MP, has just told BBC Radio 4: "I do not think Sunak will unite the party and I do not think that he has the confidence of the country."
The Liberal Democrat leader, Ed Davey, has said the Conservatives "don't trust the British people".

Speaking to BBC's Today programme, he said people were "furious" about not being given a chance to have their say and that his party would work with "any MP" to push for an election.

Davey said he anticipated spending cuts and measures that would fail to look after the poorest in society from Rishi Sunak's government.

He said: "We think we need a general election now, we believe that, but it's increasingly clear the Conservatives don't trust the British people.

"They are not going to give people a say and, let me tell you, people are furious about that.

"We're happy to work with any MP who's willing to give the people a chance to have their say."

He added: "I think (Sunak) is going to deliver public spending cuts. I'm not convinced he's going to look after the less well-off in society."
The barrister Hashi Mohamed has written for the Guardian about what Sunak's victory means for progressive politics.
Congratulations to Rishi Sunak on becoming the first Asian prime minister of the UK. It's a momentous day for a number of reasons, not least because the Conservative leadership race was a shining example of that old immigrant adage: you have to work twice as hard to achieve your goals.

On his second opportunity to become the leader of the Conservative party, all it took for Sunak to win was Liz Truss tanking the economy, global markets in turmoil and the threat of Boris Johnson returning as leader. The race showed that not only did Sunak have to work much harder than his predecessors for his appointment, but it was already obvious to the whole country in the previous leadership election that he was the only sensible candidate.

Alas, for Tory party members it was still preferable to elect a white woman than a brown man; just as well they won't be able to vote on his appointment this time.

But rising above these political machinations, what does this moment really tell us about race relations in Britain?

For people like us, Sunak's ascension is tinged with bitterness – for many, his hardline views aren't exactly representative of who we imagined would be the first British leader with immigrant parents.
More now on who Britain's new (unelected) PM is.
Sunak has gone from MP to prime minister in just seven years – faster than any other PM in the modern era. David Cameron achieved the same in nine years, but again, Pitt the Younger holds the overall record with just two years.
The path to the top wasn't all smooth. After losing to Liz Truss in a vote of Tory members on 5 September, he was expected to disappear from politics – and quickly did, last speaking in the Commons the day after Truss became PM. But when Truss's disastrous and unfunded tax cuts brought her down in flames, Sunak was ready with the backing of supporters he had gathered over the summer campaign.
After winning the leadership, Sunak, whose career has been defined by fiscal conservatism, told MPs his ambition was to have a "highly productive UK economy" and that he backed low taxation but that it had to be affordable and deliverable.
Labour says general election 'looks less likely'
Pat McFadden, the shadow chief secretary to the Treasury, has acknowledged the prospect of a general election "looks less likely".

The party has been calling for the question to be put back to the country as the Tories have changed their leader twice since they won a mandate to lead in 2019.

But Mr McFadden says Rishi Sunak, who will be appointed prime minister on Tuesday, appears to have "ruled it out".

He told BBC Breakfast: "Given the parliamentary arithmetic – the Conservative party has got a big majority – the only way a general election can happen, really, is if they agree to hold one. So, that looks less likely today."

He said such a vote would be preferable to "a game of musical chairs at the top of the Conservative party".
Who is Rishi Sunak?
The man who will on Tuesday become the UK's 57th prime minister is richer than the King and, at 42, younger than every predecessor except William Pitt the Younger.
Sunak will also be the UK's first ever person of colour to lead the country, and first Hindu prime minister.
On Saturday, this newspaper asked if he was too rich to become PM. On Monday, 195 Conservative MPs answered. So how did he get here?
Youth
Sunak was born in Southampton in 1980 to Indian parents who had moved to the UK from east Africa. His father was a GP and his mother ran her own pharmacy. The eldest of three children, Sunak was educated at a private boarding school, Winchester College, which costs £43,335 a year to attend. He was head boy, and has in recent years made donations of over £100,000 to the school.
Sunak went on to study politics, philosophy and economics at the University of Oxford, like so, so, so many before him. He was awarded a first-class degree. He later gained a masters of business administration (MBA) at Stanford University, where he met Akshata Murty, his future wife, but where few others remember him.
Family
Murty, 42, is the daughter of the Indian billionaire NR Narayana Murthy, often described as the Bill Gates of India, who founded the software company Infosys. According to reports, his daughter has a 0.91% stake in the company, worth about £700m.
The couple married in her home town of Bengaluru in a two-day ceremony in 2009 attended by 1,000 guests. They have two daughters, Krishna and Anoushka. In April this year, it emerged that Murty was a non-domiciled UK resident, meaning she avoided UK taxes on her international earnings in return for paying an annual charge of £30,000.
Without that non-dom status she could have been liable for more than £20m of UK taxes on these windfalls, it was reported. After a public outcry, her spokesperson announced she would start paying UK taxes on her overseas earnings to relieve political pressure on her husband.
Still, Sunak and Murty's combined fortune is estimated to be £730m, double the estimated £300m-£350m wealth of King Charles III and Camilla, queen consort. They own four properties spread across the world and valued at more than £15m.
Who is Rishi Sunak? Everything you need to know about Britain's next prime ministerRead more
Let's take a moment to appreciate The Star's front page:
https://platform.twitter.com/embed/Tweet.html?p
Coming up today
If you're just joining us, I'm Helen Sullivan and I'll be taking you through the latest for the next few hours. You can find me on Twitter here if you need to.
This is the expected schedule for today's events:

9am: Liz Truss will chair her final Cabinet.
10.15am: Truss will make a statement outside No 10 Downing Street. Then she will go to Buckingham Palace to offer her resignation to the King. The king will then meet new Conservative leader Rishi Sunak and invite him to form a government.
11.35am: Sunak will make a statement in Downing Street before entering as prime minister. Inside, civil service staff will guide a new team of political appointees through what is known as "onboarding", involving everything from computer log-ins to security passes. Sunak will also put the finishing touches on his cabinet.
How world leaders are reacting to Sunak's 'coronation'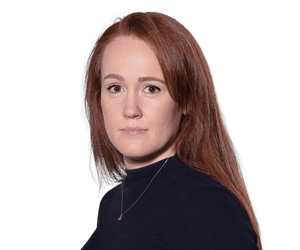 Samantha Lock
News that Rishi Sunak will take office as Britain's next prime minister – the third in less than two months – raised cheers in New Delhi, calls for stability from Europe and praise as a "groundbreaking milestone" from the US.
World leaders lauded the significance of Sunak's victory as the UK's first prime minister of colour and the youngest in modern political history.
"We've got news that Rishi Sunak is now the prime minister," Joe Biden said in remarks made during a Diwali celebration at the White House on Monday.
"He's expected to become the prime minister I think tomorrow when he goes to see the King. It's pretty astounding, a groundbreaking milestone and it matters," the US president added.
News that a Hindu son of Indian immigrants had won the leadership race raised cheers in India, where some found pride in the fact that a person of Indian heritage would be running a country it was once colonised by.
A strap across the bottom of the screen on New Delhi Television ran the words: "Indian son rises over the empire," while the Times of India ran a headline that read "UK rings in Rishi raj on Diwali":