Live Reporting
Gary Rose and Phil Dawkes
GOAL – England 3-0 Iran
Raheem Sterling
PARTY TIME!
You get the feeling England are enjoying themselves. Playing good football, when you have got players that want the ball it is a real joy to play.
Bellingham is a bit more of a threat in midfield, he will put tackles in and score goals. A real bonus for Gareth Southgate to get him now in the form that he is in.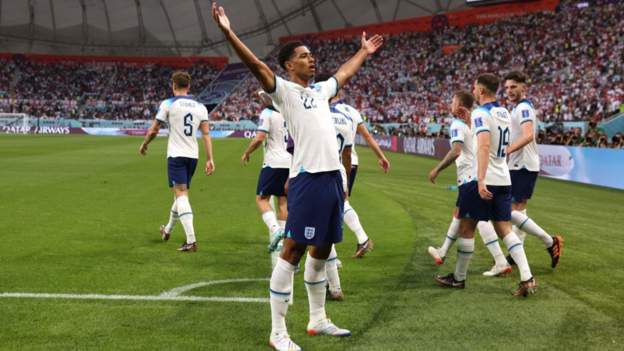 Getty ImagesCopyright: Getty Images
England in command
England 1-0 Iran

Phil McNulty
BBC Sport chief football writer in Doha
England in full control now the game has settled down and does not have that stop-start nature. They have found a rhythm. Glorious header glided into the top corner by Jude Bellingham and a fine cross by Luke Shaw.
Iran had clearly set this up to be an attritional battle and frustrate England so what do they do now?
Harry Maguire did so well to meet the ball. Every bit of strength to get on to it, all he can do is guide it. Jordan Pickford celebrates at one end but the ball hits the bar at the other.
England 0-0 Iran
England had almost 94% possession in the opening 15 minutes of this game.
Although in fairness probably only six of those minutes were actually played due to the lengthy treatment received by injured Iran keeper Alireza Beyranvand.
Too much of the possession in the middle third for the Three Lions' liking though.
Absolute mess of a game
England 0-0 Iran

Phil McNulty
BBC Sport chief football writer in Doha
The lengthy injury delay for Iran keeper Alireza Beiranvand and numerous stoppages mean this has barely been a match so far. England, through no fault of their own, have simply been unable to find any rhythm – which exactly how Iran would have wanted it. It's been a mess.
YELLOW CARD
England 0-0 Iran
The first booking goes to Alireza Jahanbakhsh, formerly of Brighton, now of Feyenoord. He goes in late on Luke Shaw and stands on the full-backs foot.
England 0-0 Iran
The match chalkboard shows it's been all England so far, although most of their passes have come in their own half or middle third of the pitch.
The purple squares mark the Iran passes – there haven't been many.
If Beyranvand has to miss 10 days for his health and his safety, then so be it. That's why these protocols are in place.
I don't see how him carrying on is right. This is ridiculous. It's almost as if he's been forced to carry on here.
It's 2022 and we are having so many discussions about concussion protocols and how it can lead to dementia. This is not ok.